Engine generator molded case circuit breakers

ABOUT US
Users appreciate the custom design and compact footprint of the Eaton Engine Generator molded case circuit breaker. This circuit breaker is specifically created for generators as well as portable and temporary power applications where lower interrupting currents are common. The patented designed trip units protect generator circuits from damaging current levels, in a compact footprint. Eaton maintains global certifications and is a component leader for engine generator applications.
Core features of engine generator MCCB's
Low magnetic pick-up range is approximately two to five times the continuous rating and provides closer low-level short-circuit protection when applied on generator circuits that have very low short-circuit capacity.
Custom designed trip unit protects generator circuits from damaging current levels.
Reverse feed application offers flexibility for top or bottom entry panels or cabinets.
Line and load terminals are included, eliminating the need for separate parts orders.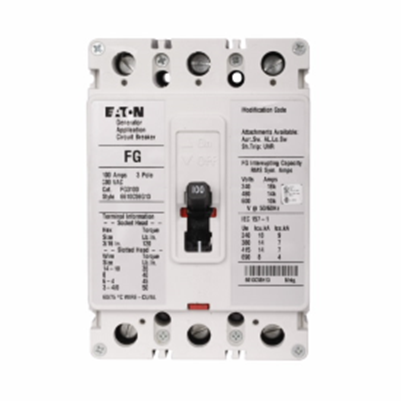 FG3125 FG3150 FG3175 FG3200 FG3225